Creative Workshop Experience Days
Creative Workshop Experience Days at Brockhole on Windermere and The Gaddum Restaurant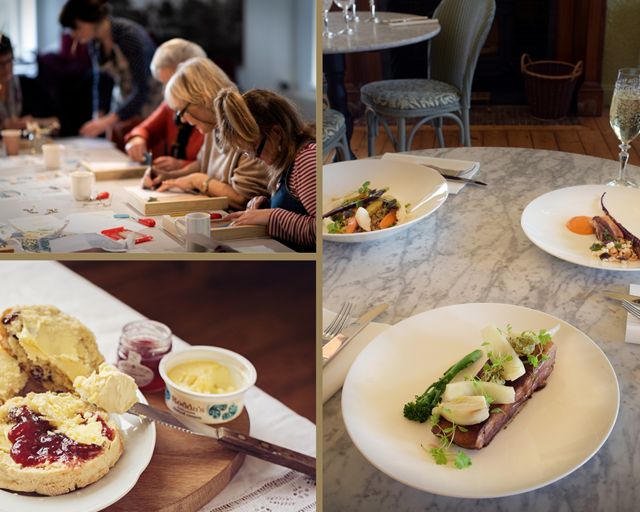 A perfect day by the lake, experiencing a delightful mix of creativity and relaxed refined dining in a beautiful Lake District setting.
Featuring a full-day art and craft workshop lead by a specialist Artist, with a brief midday break for an exquisite lunch in our beautiful Gaddum restaurant overlooking the lake, and including a delicious afternoon cream tea, served back in the studio, whilst finishing your day's work.
This Spring: Textiles

From May – July 2022 Brockhole welcomes a series of local Textile Artists and Makers to lead our Creative Workshop Experience Days. Choose from a range of exciting textile based crafts; from loom-weaving, to millinery, embroidery, crochet and more.
Workshops run 10am – 4pm on Saturdays. £75 per person. Places are limited.
Some workshops may include a small additional charge for materials. Workshops are set at various levels of experience, please read workshop details to find out more. Sewing machine based workshops will require you to bring your own machine.
Find out more about our fantastic schedule below and book your place now :
Saturday 14th May | Handcrafted Silk Roses
with Tracy Wells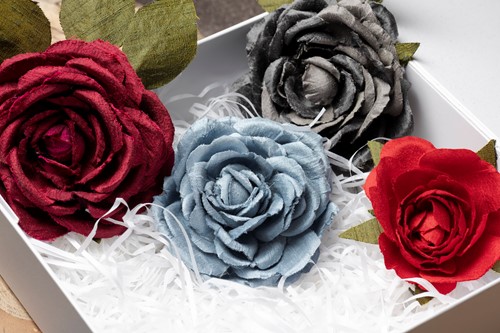 Learn the delicate craft of silk rose making with expert couture milliner Tracy Wells. In this workshop you will create a beautiful handmade silk rose which can be transformed into a brooch, fascinator, corsage or ornament. Colour preference for silk can be requested with enough notice.
* Materials cost £15 pp. Suitable for beginners.

Book now for Handcrafted Silk Roses
Saturday 21st May | Learn to Loom Weave
with Ali Sharman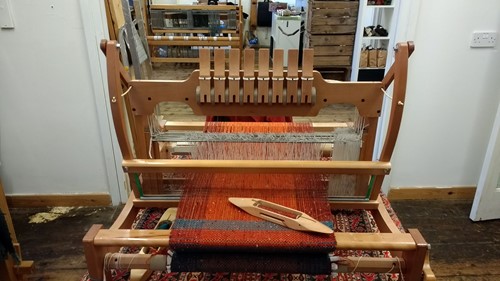 Spend the day with handweaver Ali Sharman learning how to weave patterns on a table loom. The looms will be warped up and ready to go so you can concentrate on weaving.
You'll learn how to follow simple instructions to create a variety of patterns, or you might like to choose from a selection of yarns to experiment with colour and texture. When you remove your cloth from the loom you will learn how to twist a decorative fringe.
At the end of the day, you will have produced a sampler that you can use to make a small item such as a cafetiere cosy or to keep as a reference for your future weaving projects if you prefer.
*Materials cost £7 pp. Suitable for beginners.
Book now for Learn to Loom Weave
Saturday 18th June | Mini Textile Landscapes
with Kate Slaughter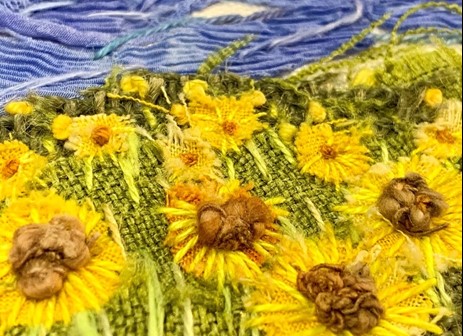 In this workshop you will create a mini textile landscape. These textile landscapes are made from layering small pieces of fabric and incorporate hand embroidery. You will learn how to use textured yarns and hand embroidery to embellish your landscape. This workshop is suitable for all abilities. One day workshop All materials and equipment are provided You may wish to bring along a piece of source material – a picture of a landscape is useful to help you design your own landscape.
*No additional cost. suitable for all abilities.
Book now for Mini Textile Landscapes
Saturday 25th June | Interlocking Crochet
with Julie Park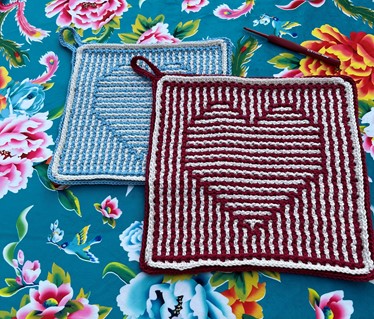 Perfect for crisp geometric patterns and creating a lovely thick fabric, interlocking crochet is ideal for pot holders, coasters, placemats, dishcloths, blankets and much more! Not for complete beginners but if you can chain, double crochet and treble crochet (UK terminology) you have all you need to learn this effective method of crochet which could be new to even the most seasoned of crocheters! These lovely pot holders designed by Astrid Schandy are the perfect introduction to this absorbing technique!
Bring your favourite 3.00mm hook and your sense of adventure! Yarn will be provided.
*No additional cost. Suitable for intermediate level.
Book now for Interlocking Crochet
Saturday 2nd July | Sketchbook exploration for textiles and mixed media
with Nancy Gray

This workshop will explore sketching for textiles and mixed media, sketchbook creation and free motion embroidery. Nancy Gray will guide you through a range of absorbing processes including drawing with your sewing machines through the use of free motion embroidery and getting creative with fabric manipulation, all to create a free standing sketchbook.
The workshop will begin with sketching at the beautiful lakeshore and around Brockhole's grounds, looking at colour, texture, line drawing and mark making, to inspire our explorations with fabric, paper, stitch and a range of mixed media.
*No additional cost. Participants must bring their own sewing machine and a free motion embroidery foot or quilting foot
Book now for Sketchbook exploration for textiles and mixed media
Saturday 9th July | Stitching Daffodils
with Emma Wigginton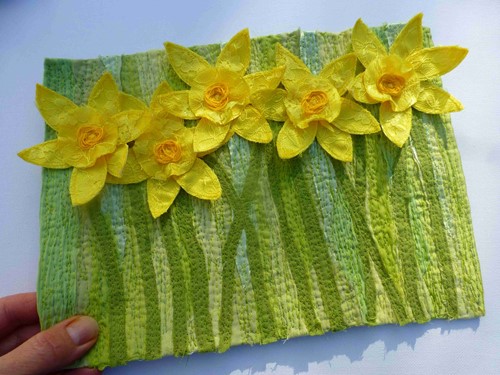 In this workshop with expert free-machine embroiderer Emma Wigginton, you will create a lovely picture of sunny daffodils using free machine embroidery and applique techniques.
* Participants will need to bring : your own sewing machine- please ensure your machine is in full working order. An embroidery or darning foot for the machine. Spare needles for your machine. Scissors and pins.
*Materials cost £2.50 fabric only – if you are happy to supply your own threads, please bring along a selection of green and yellow machine threads, in a variety of shades + orange if you wish to make an orange centre. *Materials cost for fabric and threads : £12.50
Book now for Stitching Daffodils
Saturday 16th July | Botanical art : print, collage & stitch
with Penny Hillier Evans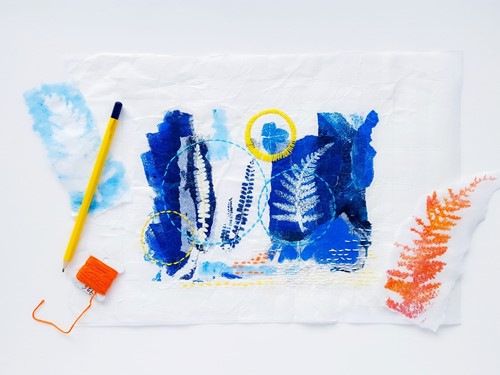 During this day workshop mixed media and textile Artist Penny Hillier-Evans will guide you through using foraged plants and found objects to create a unique piece of art . Weather permitting – your day will begin with time in Brockhole's beautiful gardens where you will collect leaves and other garden treasures to print from. You will then use various techniques including stitch to create a vibrant collage to be proud of. By the end of the workshop you will have a unique work of art and the skills to experiment further.
*Suitable for all abilities, you do not need drawing or painting experience. Materials cost £6 pp.
Book now for Botanical Art: print, collage and stitch
Your Creative Experience Day will include lunch in our Gaddum Restaurant, comprising of one main course selected from their main seasonal menu and one soft drink, any additional items will be charged per customer. The package also includes a coffee or tea in the morning on your arrival and afternoon cream tea consisting of a scone with jam & cream and a coffee or tea. For an example of The Gaddum's current menu please see : Lunch Menu | The Gaddum Restaurant | Windermere | Lake District. Please include details of any dietary requirements in your booking information.
For any questions about the workshops please contact : rosie.meredith@lakedistrict.gov.uk
Workshops must have a certain minimum number of bookings to run, we reserve the right to cancel workshops with insufficient bookings but will try to accommodate all booked customers as much as possible.
Cancellation Policy : Cancellations must be made at least 7 days prior to start of the workshop for you to be entitled to a refund.
'Crafternoon Tea' – A crafty treat to remember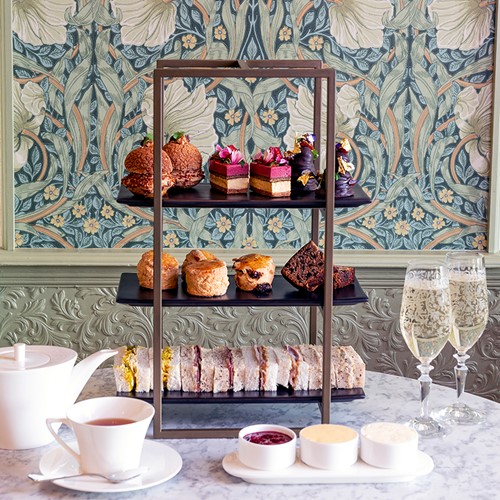 Treat yourself to the perfect day out – an exciting creative workshop and a delicious Afternoon Tea in our stunning Gaddum restaurant or as we like to call it 'Crafternoon Tea'.
Just select 'Crafternoon Tea' when booking your craft course and call The Gaddum to reserve your table on the date of your choice.
And the cherry on top of the homemade cake?.. This deal gives you a special 10% discount on both the workshop and the afternoon tea.